Reliable and backup power
technologies.
Technologies & Products that
help optimize the manufacturing
processes for efficient, safe,
and high quality production.
MORE


Advance Technical Spare Parts Company LLC
Adnan Khalifa Riggat Al Buteen
Opposite Al Maktoum Hospital
P.O.Box: 55784
Deira
Dubai
United Arab Emirates

Phone:
+971 4 227 8100


Fax:
+971 4 227 7997
E-mail:
sales@advancegulf.com
Website:
www.advancegulf.com

Advance Technical Spare Parts. LLC
P.O.Box: 28313
Abu Dhabi
United Arab Emirates

Phone:
+971 2 621 1311


Fax:
+971 2 621 1310
Website:
www.advancegulf.com
Opening Hours(Local time):
Saturday–Thursday 08.30-19.30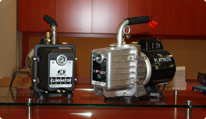 Dubai
Abu Dhabi
Refrigeration, Air Conditioning & Ventilation Products
Our company was formed a century ago when the founders, Mr. D.K. Karani and brothers commenced business in Pearls in Bahrain. Half of a century later, the company diversified the business which death with electrical parts and within a short period expanded to cover the refrigeration and air conditioning field.
Our company started Dubai operations in December 1993. Over the years, we have successfully built a formidable reputation in air conditioning, refrigeration, ventilation parts and equipment for residential, industrial and commercial applications. We have combined technically superior products and services from our industry leading divisions and brands with our global engineering, design, distribution, installation and monitoring capabilities to create reliable, energy efficient client systems that improve human comfort and protect the environment.
Today Advance Technical employees are Professionals and the constant investments in technology, it became a Supplier of Excellence and products are preferred by great assembling companies in the world and outstanding manufacturers of commercial cooling market. People at Advance Technical Parts are the "main secret of our SUCCESS". This is merely not a statement but an everyday practice. When selecting individuals to join the team, as well as in the personal development of existing members, our Company strives to ensures that respect for diversities in cultures and opinions becomes a springboard to a successful career.
Our Strengths are Well Trained and Dedicated Employees operating in a fully automated and computerized system. All locations connected through WAN. We have 20 years of Proven Experience in Dubai and 12 years in Abu Dhabi. Our Brands are Renowned all Over the World. Credit Rating Certified by Dun & Bradstreet, USA.
We have created customer loyalty by offering quality products at competitive prices. We assure our customers and retailers with the comfort, energy efficiency and safety for all heating, air conditioning and refrigeration solutions.
Our Gallery